Pan Era Group Embraces Sustainability

at VietnamPlas 2023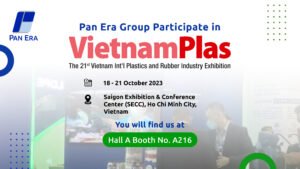 Ho Chi Minh City, Vietnam – Pan Era Group is proud to announce its participation in the VietnamPlas 2023, where the company will showcase its groundbreaking product, ETERLENE, a premium recycled Polyethylene and Polypropylene resin. The exhibition will take place from October 18-21, 2023 at the Saigon Exhibition and Convention Center (SECC) in Ho Chi Minh City.
Visitors are invited to meet the Pan Era Group team at Hall A, Booth A216, where they can explore the innovative features and benefits of ETERLENE to improve their products and contribute to a sustainable future. ETERLENE has established its industry-leading position by combining high-quality recycled materials with cutting-edge manufacturing technology. This revolutionary resin sets a new standard in sustainability and performance for various industries.
Pan Era Group takes pride in staying ahead of the curve by developing solutions while minimizing environmental impact. The company's commitment to reducing dependence on virgin materials and providing alternatives aligns with global efforts towards a circular economy.
"We are thrilled to present our innovative ETERLENE premium recycled Polyethylene and Polypropylene  to the attendees of Vietnam Plas 2023," said Wilson Pandhika, CEO of Pan Era Group. "We believe our product opens new doors for brand owners seeking sustainable solutions without compromising quality. We are excited to continue expanding into new markets globally with our premium recycled resin."
Vietnam Plas has become an essential event for international key players in the plastics and rubber industry, opening opportunities for companies like Pan Era Group to showcase their commitment and impact on sustainable business practices.
Don't miss the opportunity to learn more about Pan Era Group's ETERLENE Premium Recycled Resin at Vietnam Plas 2023 by visiting our booth at Hall A, Booth A216.